London Olympic medallists reunite to inspire next Gen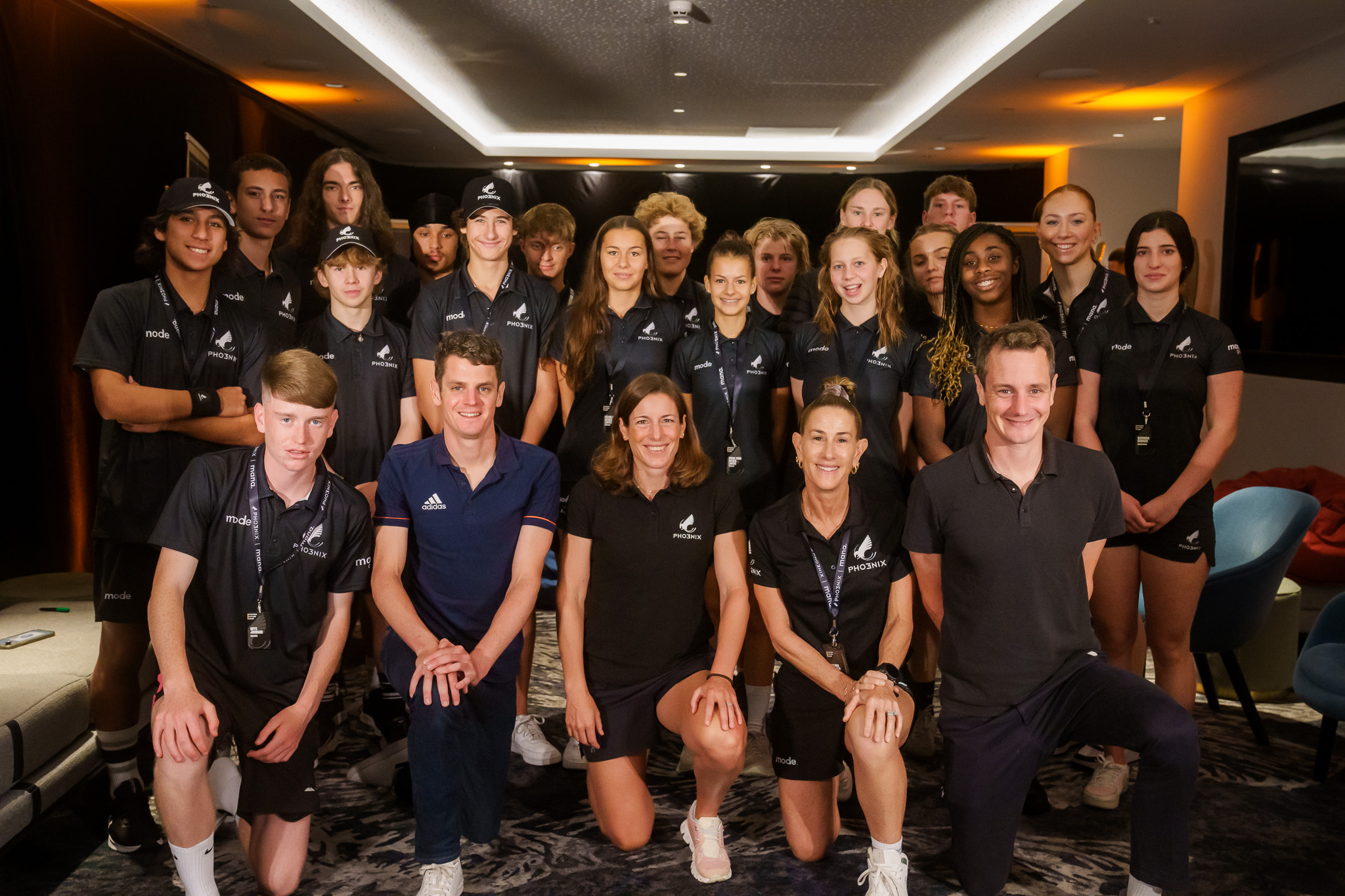 Olympic medallists Alistair Brownlee, Jonathan Brownlee, and Nicola Spirig reunited to inspire the next generation of sports stars at Pho3nix Future Camp London from 23-27 August 2023.
Hosted by sport nonprofit Pho3nix Foundation, Pho3nix Future Camp London brought together 20 junior athletes from across Europe and South America representing 13 Olympic sports in a fully funded experience aimed to equip them with knowledge and skills for a career in elite sport and beyond.
In a once-in-a-lifetime opportunity for camp participants to learn from and be inspired by world-class athletes, the three special guests reminisced their London 2012 experience: what it took to get to the starting line, deliver for their nations, and then win another four medals combined in succeeding Games.
Alistair said, "I'd known about that race since London won the bid in 2005. It felt so far away and that I'd probably never be an Olympic athlete, but it was still a dream. Fast-forward, and I was on the start line as the favourite to win the race."
Jonathan stated, "London 2012 literally was the day that changed my life. To be back here today inspiring the next generation makes me even more proud."
Spirig noted, "I've been to five Olympics, but London is by far my favourite. Being here with Jonny and Alistair inspiring kids in the Pho3nix Future Camp is perfect."
They work with the Pho3nix Foundation delivering Pho3nix Kids Triathlon events across Europe: Alistair and Jonathan in the United Kingdom, and Spirig in Switzerland and Greece.
Alistair added, "The Olympic movement is about so much more than winning medals. It brings people together from all over the world to compete and then go home and inspire their communities. The Pho3nix Foundation is part of that, inspiring communities to ultimately live the wider goals of health, sport, and fitness."
Presenting the camp sessions were MANA Global sports director, Commonwealth Games gold and Olympic silver medallist John Steffensen and Australian Ironman Hall of Fame member and 15-time iron distance triathlon champion Belinda Granger.
Joining them were Super League Triathlon stars, Pho3nix-supported athletes, and four-time triathlon World Champion, MANA Global CEO, and Pho3nix Foundation board member Chris McCormack.
Camp participants returned home encouraged, empowered and emboldened to persevere and pursue their sporting dreams. 
"These opportunities and experiences do not exist in Chile and even in all of South America," said Emilio Jaque, father of skateboarder and 2023 Pan American Games qualifier Martin Jaque. "Without a doubt, as an athlete and person he had incredible growth. Now we continue with the Pan American Games in Santiago and the World Skateboarding Tour, for that we will continue working with determination and resilience."
Elaine Johnson, mother of Irish cross-country and U16 mile national champion Rhys Johnson concurred, saying, "Thank you for choosing Rhys to participate in the London camp – he had an amazing time. It was so well-organised and gave him once-in-a-lifetime experiences. He has come home more confident, motivated to train hard at his athletics and to dream big!"
Pho3nix Future Camp is part of the Pho3nix Future Program, which identifies and assists promising juniors with athletic and life skills as they pursue a career in professional sport. For more information, visit https://pho3nixfoundation.com/our-activities/pho3nix-future/