Pho3nix Junior Team revealed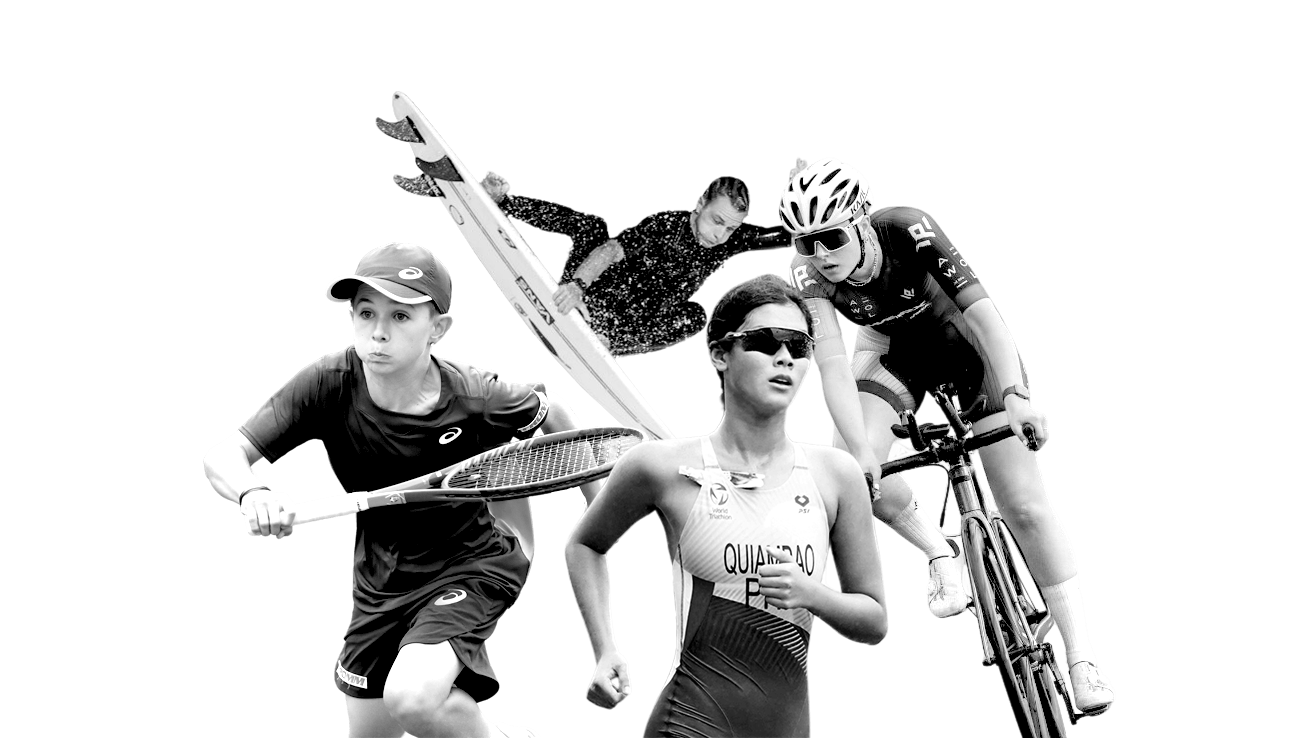 The Pho3nix Foundation is pleased to announce the athletes selected for the newly formed Pho3nix Junior Team.
Targeted at supporting promising athletes aged 16 to 20 years old, the Pho3nix Junior Team aims to bridge the gap in support between competing as a junior and making it as a professional. For 2023 the Pho3nix Junior Team welcomes to its roster tennis player Flynn Thomas from Switzerland, triathlete Gene Heart Quiambao from the Philippines, surfer Kobi Clements from Australia, and track cyclist Jacqui Kinsey from Great Britain.
Thomas has a passion and skill for mastering the game of tennis that has seen him go unbeaten in his age group for over three years, becoming Swiss U12 champion five times in a row. Thomas has grown to become the #1 U14 and #2 U16 player in the world, regularly sweeping adult opponents off the court. In March 2023 he played his first ATP singles match, becoming the youngest ever competitor on the ATP Tour.
Quiambao is on the national team and has represented the Philippines in regional championships. She is also a three-time University Athletic Association of the Philippines swimming champion and record holder. A national duathlon champion and two-time youth Triathlete of the Year winner, the Olympics is her goal and dream.
Clements is a seven-time Surfing NSW regional champion and the top Australian junior in 2021. Growing up surfing Sydney's renowned spots, he placed fourth at the 2022 ISA World Junior Surfing Championships and won the World Surf League Skullcandy Pro Junior. He has his eyes set on winning ISA Worlds and qualifying for the WSL Championship Tour.
Kinsey is a cyclist competing nationally, regionally, and internationally for Great Britain. Entering the racing scene only four years ago, she regularly faced competitors with access to superior nutrition, equipment, and training but still managed to score top 10 finishes in multiple national events and win regional events. With Pho3nix Foundation's support, she can continue pursuing her dream.
All four athletes have been involved in previous Pho3nix programs: Thomas was part of the Pho3nix Team in 2022, while Quiambao, Clements, and Kinsey attended Pho3nix Future Camps, a mentoring and educational program for promising young athletes, highlighting the progression made possible though the Foundation's participation to professional pathway.
"We are so excited about developing future sport talent with our Pho3nix Junior Team," says Chris McCormack, Pho3nix Foundation board member and Mana Global executive chairman. "Pho3nix is about building pathways in sport, from simply partaking in the joy of being active to achieving the pinnacle of human potential.
"The Pho3nix Junior Team is essentially an extension of Pho3nix Future in supporting young athletes in their long-term professional growth. We look forward to seeing them step up into Olympic selection so we can support them through the Pho3nix Athlete Program and potentially rise up to join our elite squad of athlete ambassadors on the Pho3nix Team."