Pho3nix Athlete Program announces supported athletes for Paris 2024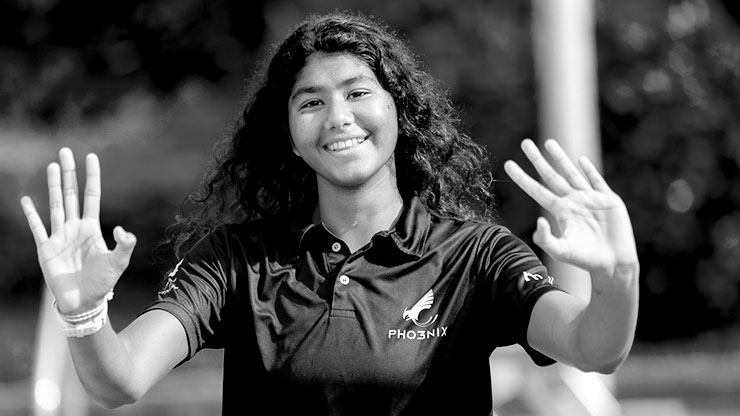 The Pho3nix Foundation has today announced the initial eleven athletes who will receive support in their campaigns to qualify for the 2024 Paris Olympic Games via the Pho3nix Athlete Program.
Now in its third Olympic cycle, the Pho3nix Athlete Program aims to assist Olympic athletes from any nation and in any individual Olympic or Paralympic sport to compete at their best on the world's biggest stage, fulfilling the Foundations remit to inspire and assist future generations to grow through sport. 
After a global search, the first eleven athletes to have been added to the roster for Paris 2024 are skateboarder Margielyn Didal (PHI), swimmer Jehanara Nabi (PAK), triathletes Jamie Riddle (RSA) and Pragnya Mohan (IND), canoe slalom athlete David Llorente (ESP), badminton player Jenjira Stadelmann (SUI), speed climber Patrycja Chudziak (POL), track athlete Edward Faulds (GBR), BMX riders Andre Lacroix (PER) and Miyanda Maseti (RSA) and downhill mountain biker Melanie Chappaz (FRA).
All of these athletes are trailblazers, with many competing in their chosen sports as the first elite athlete from their nations, and each lacking local support and resources on their journey. The Pho3nix Foundation's support goes toward each athlete's travel, training, equipment, and competition expenses, enabling these athletes to give their all on sport's biggest stage. 
Three of these athletes have been part of previous Pho3nix initiatives, proof of the not-for-profit foundation's commitment to creating long-term pathways to success in sport through collaboration and community: Didal was in the Pho3nix Athlete Program intake for Tokyo 2020, Nabi attended the youth athlete development-oriented Pho3nix Future Camp in Phuket, Thailand last year, and Riddle was a guest mentor at the Pho3nix Future Camp in Port Elizabeth, South Africa.
"The Pho3nix Athlete Program helped me so much last time, with the Tokyo Olympics pushed back a year," says Didal. "I was stuck at home, and the support helped me to afford a mini-ramp which my Dad built. I'm so thankful to have been part of the Pho3nix Athlete Program and again for this upcoming Olympics in Paris."
Nabi says, "It's always hard financially with the cost of training and everything. This will definitely help me train with some of the best coaches in the world and get the best equipment I can have. It's going to make me what I want to be: an elite swimmer. I'm so excited!"
The Pho3nix Foundation, led by its chairman Sebastian Kulczyk, has already supported over 60 Olympic and Paralympic athletes through the Pho3nix Athlete Program, which is just one of several projects that look to provide a pathway all the way from a child's first steps in sport through to the pinnacles of human athletic endeavour – with each athlete chosen as they embody the Pho3nix ethos of collective growth enshrined in its motto: "Together We Rise". 
While selection for the Paris 2024 Pho3nix Athlete Program has been completed, pathways to becoming a Pho3nix athlete continually remain open. The Pho3nix Foundation is currently accepting applications from promising youth athletes ages 16 to 18 to attend fully-funded Pho3nix Future Camps in Europe, Asia, and Africa set for the remaining two quarters of 2023. Apply here.